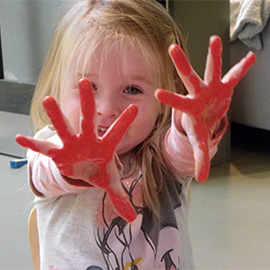 Before your child starts in the Orchard Room
All children are offered three settling in sessions. These are for you to attend with your child and will help you both to become familiar with the new nursery surroundings. It also gives you a chance to ask questions.
We aim to hold a parent conference during these visits which will give you the opportunity to get to know your child's keyworker and share information about your child.
Some children settle more quickly than others and we aim to be as flexible as possible during the settling process.
Once your child has started in the Orchard Room
We ask that parents/carers come into the Orchard Room and settle your child each day and when possible spend time at the end of their session chatting to nursery staff about your child's day. We aim to create a warm, trusting partnership with parents and encourage you to share information with nursery staff on an ongoing basis.